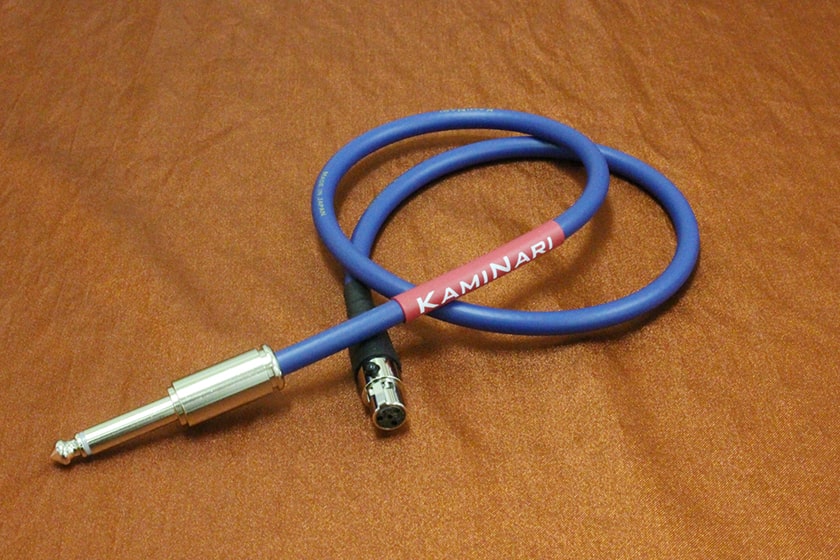 Wireless cable for electric guitar
A dedicated cable for wireless systems that supports mini XLR plugs. Designed by paying attention to the balance of the midrange in order to obtain the dry and taut bass range of the single coil and the treble range with a thick presence. Even for humbuckers, we succeeded in drawing out the original potential of moving forward wide. A compact and simple original design plug is used on the instrument side. A jack with excellent holding power to the plug is used on the transmitter side. Eliminates the ease of disconnection of the connector found in conventional wireless cables and increases stability on the stage. Phone-TA4F.
※KAMINARIケーブル製品には、株式会社小島半田製造所の音響用はんだ「HMXシリーズ」を使用しております。株式会社小島半田製造所は、徹底した品質管理と長年の経験と実績で培った生産技術を活かし、これまでに様々なはんだを開発しています。
その取り組みの一つである音響用はんだ「HMXシリーズ」は特殊技術により、はんだに含まれる微細な酸化物を極限まで取り除き、圧倒的な音の立ち上がりの速さと倍音量を実現。不自然な誇張をせず、高音域から低音域まで広いレンジの原音を損なう事なく表現し、KAMINARIケーブルの性能を最大限に発揮します。
---
Color : 藍 -AI-
Completed production
K-GWC60S (60cm) 
¥

6,600 [tax in]
K-GWC60L (60cm) 

¥

6,600 [tax in]

Product specifications and prices are subject to change without notice. Please note.