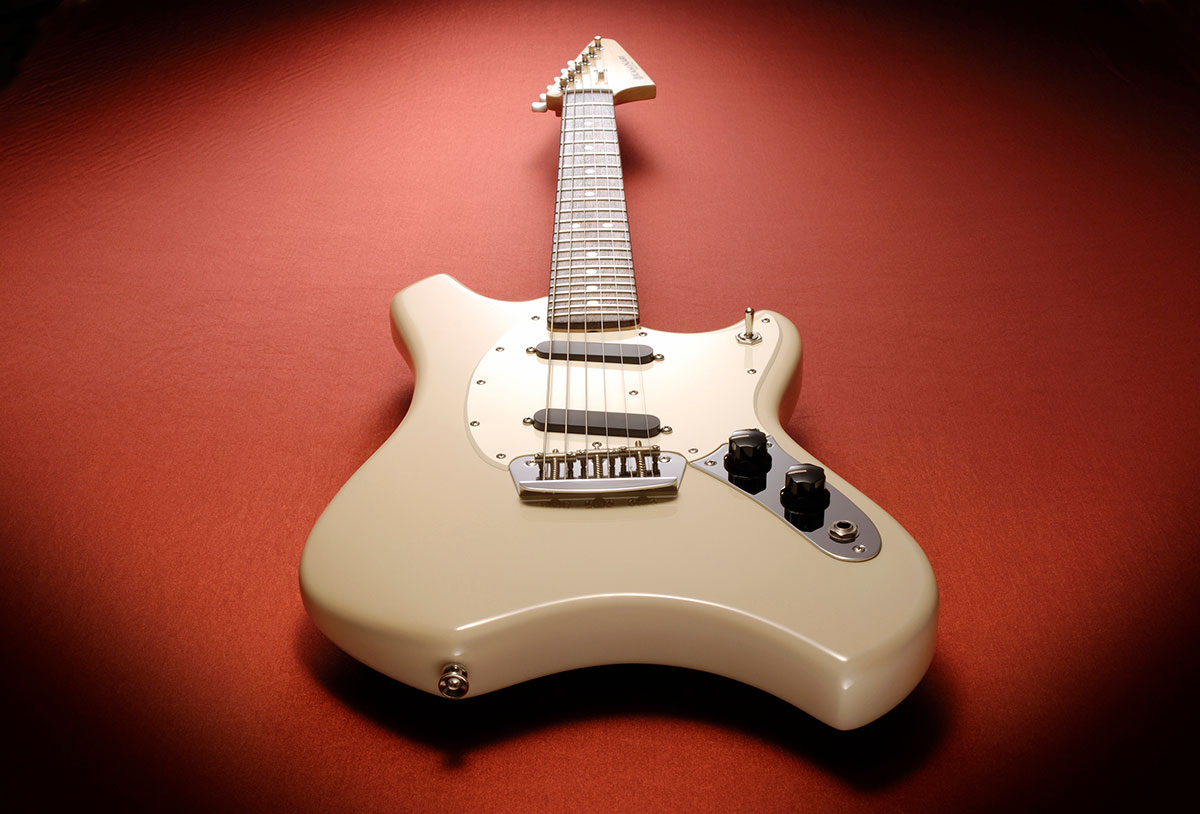 In the 1960s, Fender created a number of guitars with new ideas that were different from the royal road model Stratocaster / Telecaster. Among them, there was a guitar with a particularly unique presence. Arrow head, unique body shape, simple specifications of 1PU, that is commonly known as "Swinger". Also known as "Musiclander" or "Arrow", it didn't appear in the Fender catalog without an official name.
In 2010, KAMINARI GUITARS compiled a plan for this Swinger handmade reproduction and brought it to Mr. Kunio Sugai, a Japanese builder who has been making custom guitars in the United States for over 30 years. The first guitar project of KAMINARI GUITARS, which was finally completed after repeated trial production. Swinger'69, which is completely handmade in every detail, is born here.
Kunio Sugai Profile
Born in Tokyo in 1947. He started making guitars when he was 15 years old. After he got a job at a guitar manufacturing company, he moved to the United States in 1970 and worked for Fender. After leaving Leo Fender, he had a career as a general manager, after which he founded his own workshop and shop "Performance Guitar" in Hollywood. He has earned the trust of many prominent musicians such as Jeff Beck, Frank Zappa, Warren DeMartini, Joe Walsh, Steve Vai, Michael Schenker and Tom Morello, and has produced numerous custom models.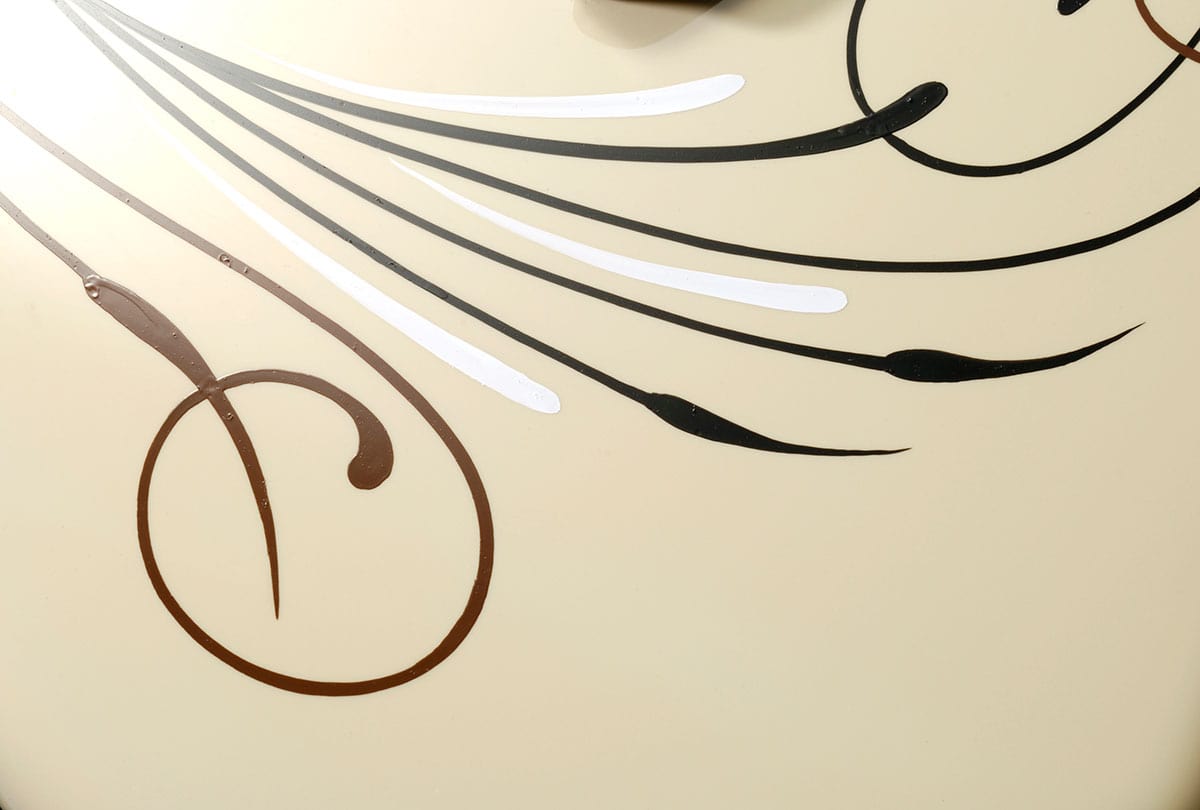 finish
Uses genuine nitrocellulose lacquer paint from the 1960s, which Mr. Sugai stocks. I'm using it from the base, and I want you to see the weather check and color burning due to aging as "one of the pleasures of having a vintage-like guitar." In addition, it is possible to insert pinstripes by well-known craftsmen as an option.
pick up
The dead stock enamel coils of the late 1960s are used generously, and each one is hand-wired by a Fender craftsman at the time. The specifications are the same as at that time, with flat pole pieces, gray bobbins, and DC resistance set to around 6.5 kΩ. In addition to the basic model 1PU specification, 2PU specification is also available. The 2PU specification uses series wiring, and when set to the center position, a powerful sound like a humbucker can be obtained.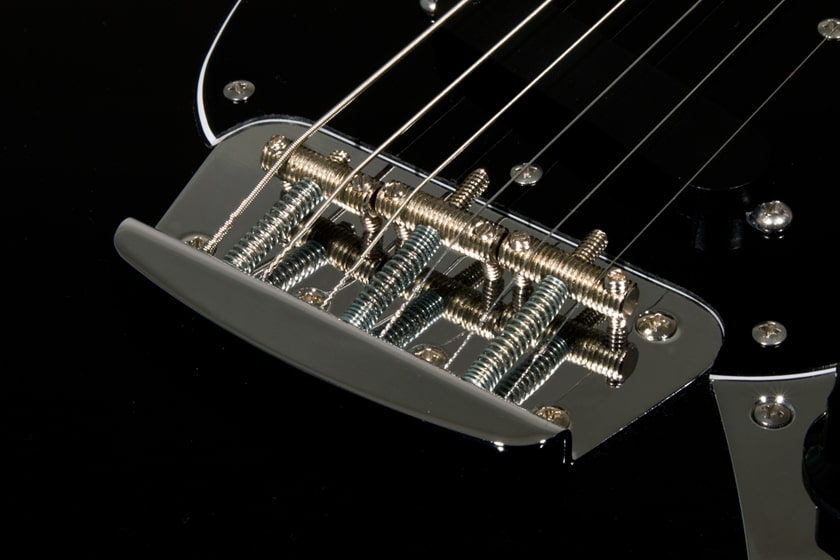 bridge
The bridge, which can be said to be one of the characteristics of Swinger, was the type used by Duosonic, Musicmaster, etc. from the mid-1960s to the 1980s. This part is not currently on the market and is difficult to obtain. At KAMINARI GUITARS, this bridge plate is modeled from the original vintage parts and completely reproduced in Japan. In addition, the saddle adopts a vintage type 3-Way spiral saddle. As for the set screws for height adjustment, we have been thoroughly committed to inserting inch-sized slotted screws, which are difficult to obtain, and even one screw.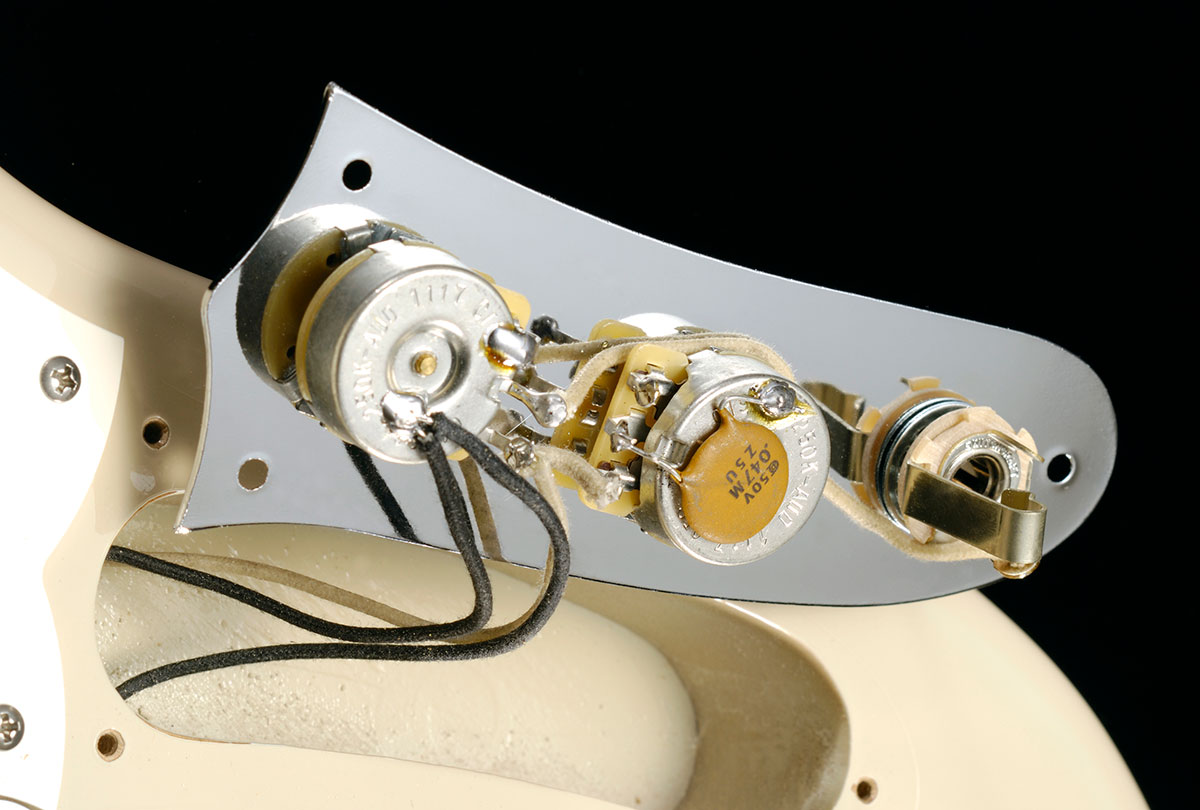 Assembly
The pot is made by CTS, the jack is made by SWITCHCRAFT, and the wiring material is all made by USA cross wire. It also uses the precious 1960s deadstock NOS ceramic capacitors used in Fender at the time.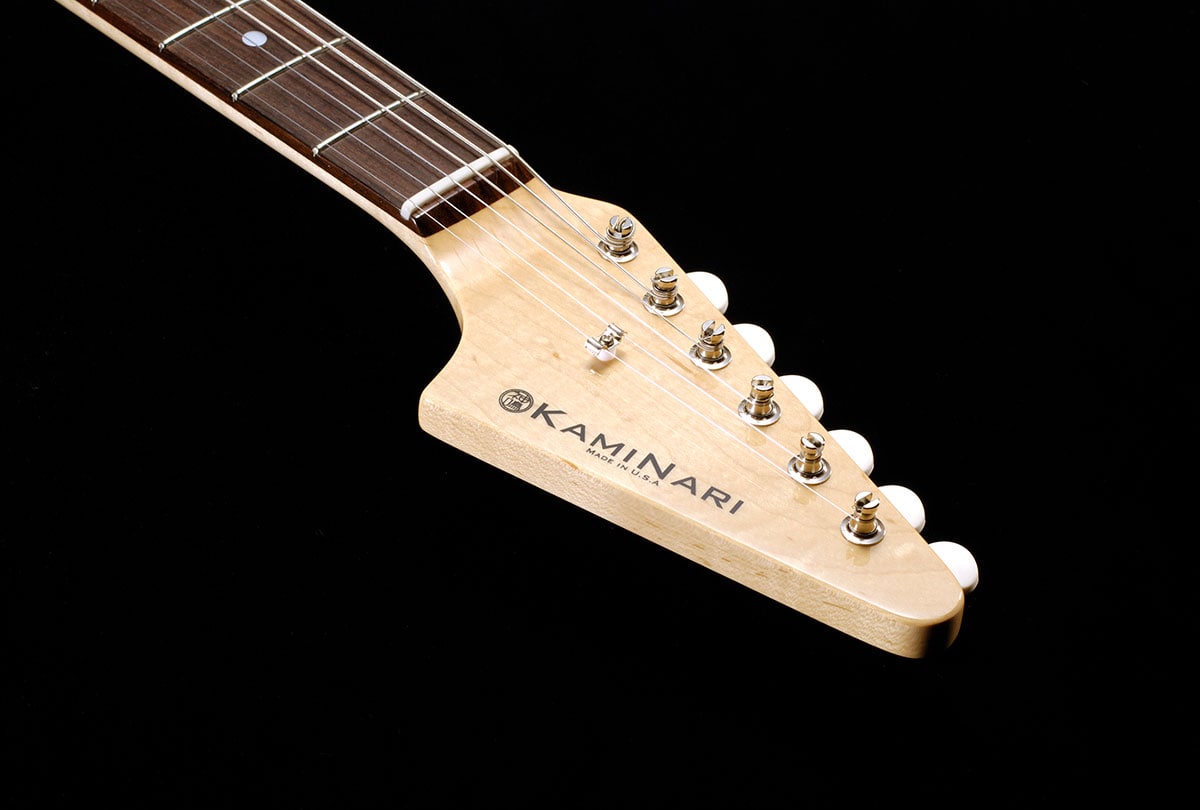 Head body
The original Swinger has been accurately measured to completely reproduce the characteristic arrow head and attractive body shape. Also, by arranging the body thickness to the same thickness as the Mustang, the sound is more powerful. The material used is high quality alder seasoned and carefully selected on the west coast of the United States, which is ideal for guitars.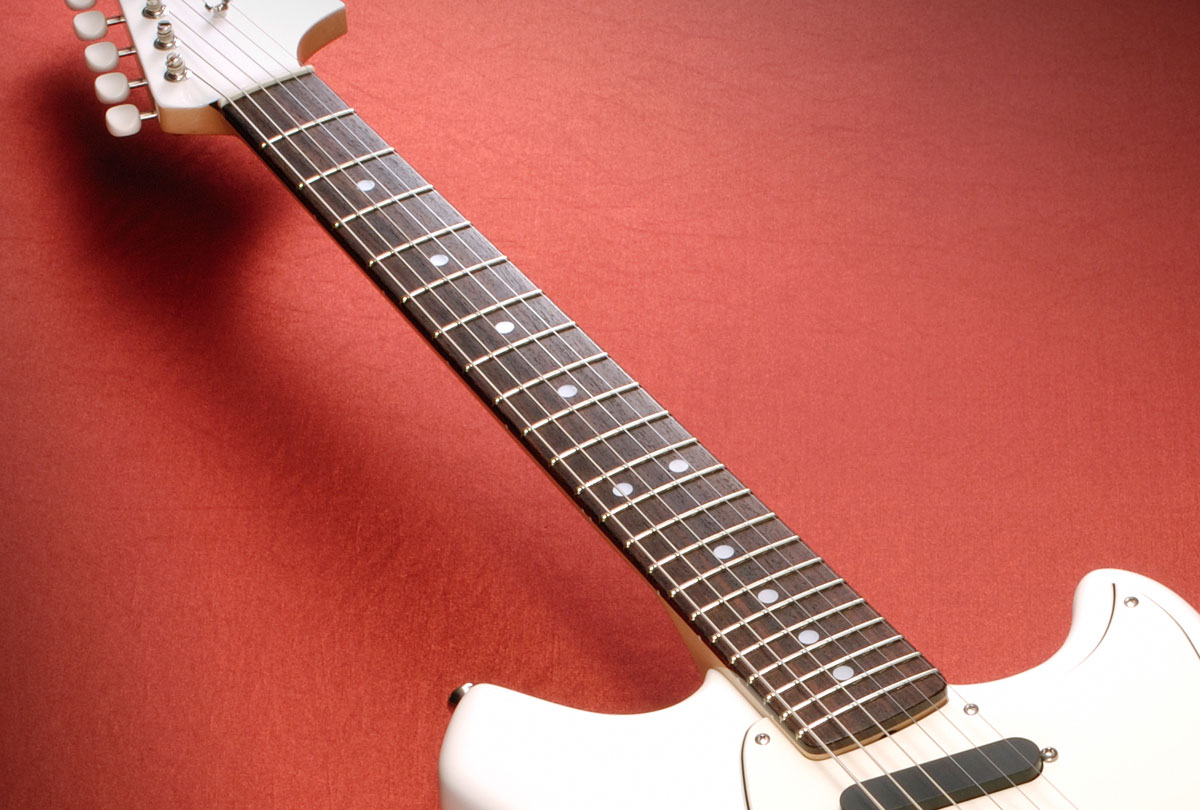 neck
The neck is maple, and the shape of 1963 is excellent with medium scale. The fingerboard is Indian rosewood. In addition, the truss rod made of supple and strong steel material used for aircraft has a larger diameter than the usual one, and the front is finished with a surprisingly clear and thick sound. Also, although the original Swinger is a short scale, it was arranged to a medium scale (22F, B neck) with an emphasis on playability.
Hard case
付属のハードケースは、ミディアムスケールギター専用のホワイトトーレックスタイプを、アメリカのG&G社にて特注製作。60年代Mustangケース同様にネック留めで固定する仕様。さらにホワイトトーレックス、ブラックレザーモールディング、ブラックレザーハンドル、オレンジインナーと、ビンテージさながらの仕上がりとなっている。Mustang、Duosonic、Musicmaster、Bronco等、ミディアムスケールギターの収納も可能。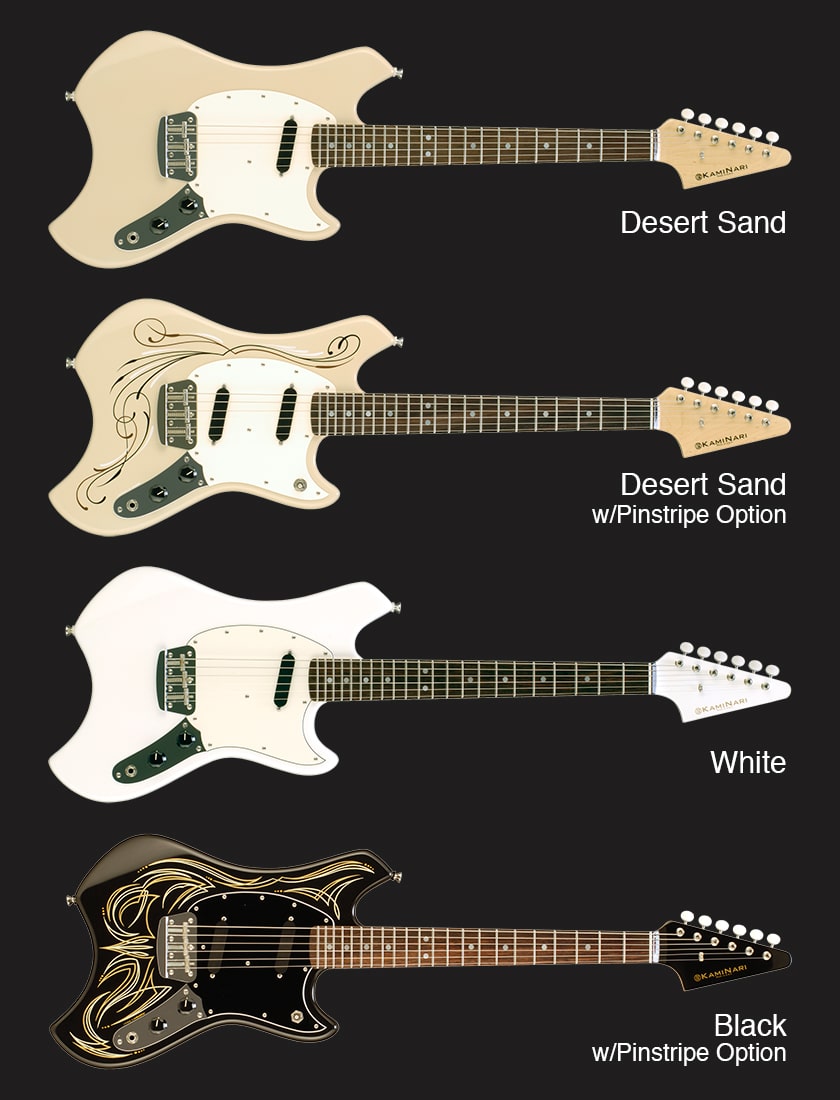 Specifications
【K-SW1】
Body : Alder
Neck : Maple
Fretboard : Indian Rosewood (22F)
Scale : 628mm
Pickup : KAMINARI original Flat pole S-top
Machine Heads : GOTOH
Finish : OLD Nitrocellulose Lacquer
Color : Desert Sand / White / Black
【K-SW2】
Body : Alder
Neck : Maple
Fretboard : Indian Rosewood (22F)
Scale : 628mm
Front Pickup : KAMINARI original Flat pole S-top
Rear Pickup : KAMINARI original Flat pole N-top
Machine Heads : GOTOH
Finish : OLD Nitrocellulose Lacquer
Color : Desert Sand / White / Black
Accessories: G & G White Torex Hard Case
Full length: about 985mm / maximum width: about 315mm / weight: about 2.8kg
K-SW1(1PUモデル) 定価360,000円(税込396,000円)
K-SW2(2PUモデル) 定価390,000円(税込429,000円)
You can put pinstripes on all guitars and basses.
ピンストライプオプション 11,000円(税込)〜
* Price varies depending on the size of the pinstripe.
* Since all pinstripes are hand-painted, they will peel off over time as they are used, but we have adopted hand-painting in anticipation of the texture.
Product specifications and prices are subject to change without notice. Please note.